Below is a list of cities that already have prominent movements to divest funding from police departments, and reinvest it back into communities. Follow the movements for more details, and send a message to your elected officials encouraging them to #DefundThePolice!
And just because there isn't a movement in your city doesn't mean that you can't contact your local officials about this issue. Visit defund12.org for key official contact information in your state.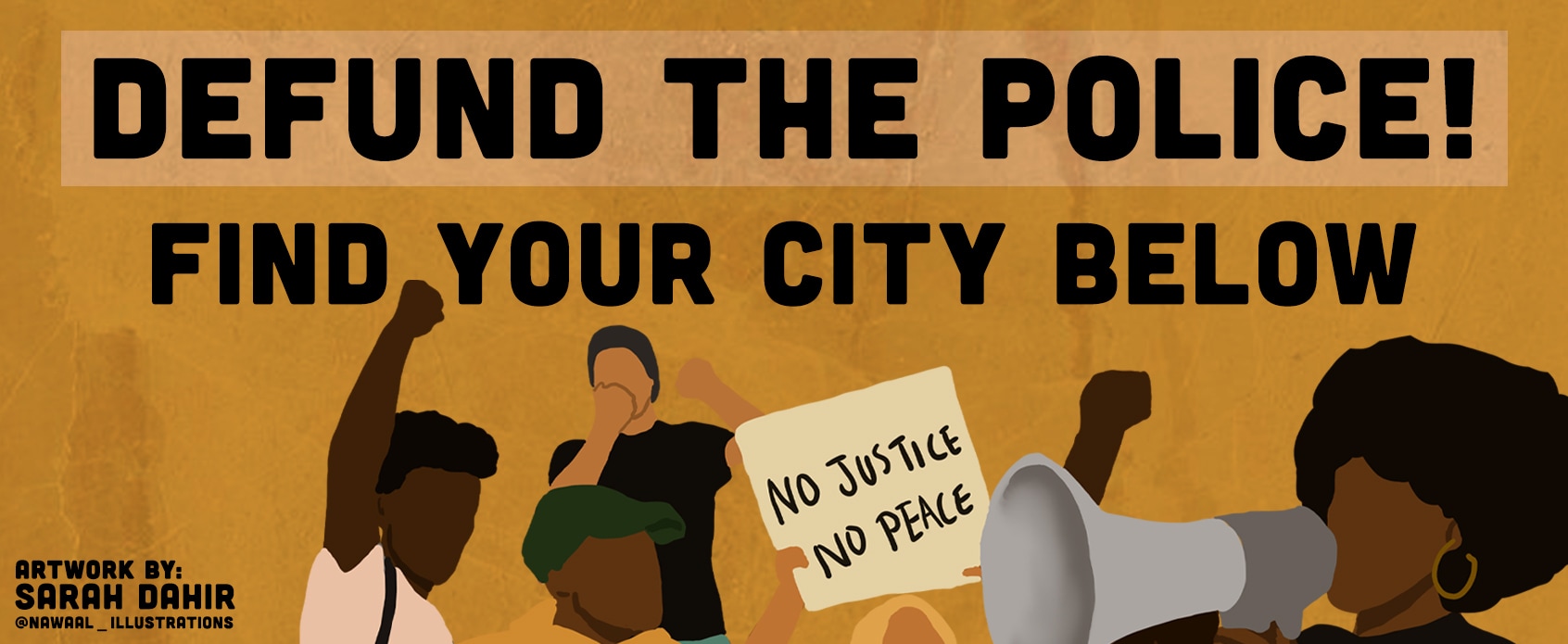 New York City Facts:
According to Communities United for Police Reform, the NYPD's budget in 2019 was close to $6 billion. That was more than funding for departments of health, homeless services, youth development and workforce combined.
Mayor de Blasio proposed cutting NYPD'd budget by 0.3 percent next year, while slating the Department of Youth and Community Development for a 32 percent cut.
The new fiscal year starts on July 1, so the budget is being negotiated NOW.
Local movement: Communities United for Police Reform, #NYCBudgetJustice
Contact your officials:
Minneapolis Facts:
According to the New York Times, police officers in Minneapolis have used force against Black people at seven times the rate of white people in the last five years.
In 2019, Minneapolis allocated 35 percent of its general fund for policing. That's $193 million.
Activists are calling for a quarter of the police budget to be cut, and invested in other health and public safety programs.
Local movement: Reclaim the Block
Contact your officials:
Los Angeles Facts:
Last year, Los Angeles spent over half of its discretionary budget on policing. The LAPD currently has 9,985 officers.
Activists have already successfully pressured the Mayor into scrapping a proposed 7 percent increase for the LAPD, and redirecting $150 million from their budget to alternate social programs.
Local movement: People's Budget LA
Contact your officials:
Mayor Eric Garcetti: mayor.helpdesk@lacity.org, (213) 978-0600
Councilmember Paul Krekorian, Chair of the Budget and Finance Committee: councilmember.Krekorian@lacity.org, (213) 473-7002
Oakland Facts:
In 2017, Oakland allotted 41 percent of its city budget to the police, and only 0.9 percent for economic and workforce development.
A 2016 Stanford study found that Black men in Oakland were four times more likely to be searched during a traffic stop than white men, and more likely to be handcuffed even without an eventual arrest.
The Oakland Police Department has been under consistent federal monitoring since a 2003 civil rights lawsuit alleged widespread misconduct.
Local movement: Defund OPD
Contact your officials:
Dial into city council meetings
Nashville Facts:
Nashville Mayor John Cooper proposed funneling an extra $2.6 million to the police department next fiscal year, while rejecting a request from schools for money for textbooks.
City funding for local nonprofits is slated to be slashed in half, which includes support for organizations like the Nashville Sexual Assault Center.
In a budget meeting in June that lasted until dawn, nearly 200 Nashville residents asked the City Council to rethink its priorities. The next meeting is June 16.
Local movement: Nashville People's Budget
Contact your officials:
Philadelphia Facts:
Police and prisons constitute about one-fifth of Philadelphia's discretionary budget.
Mayor Jim Kenney is proposing an extra $23 million for the police department, bringing its total budget to $790 million. That includes a raise for police officers, as other city workers face layoffs.
The Mayor also wants to impose deep cuts for the civilian oversight board for the police, and across an array of anti-violence programs that work with at-risk youth.
The City Council must approve a new budget bu June 30.
Local movement: Philly We Rise
Contact your officials:
Mayor Jim Kenney: james.kenney@phila.gov, (215) 686-2181
Austin Facts:
In the current fiscal year, Austin allotted almost 40 percent of its general fund to the police, compared to 8 percent for public health, 9 percent for parks and recreation, and 0.7 percent for neighborhood housing and community development.
During a single week of protests, residents lodged 159 formal complaints against the Austin police about how officers handled protestors.
In 2018, Black Americans made up 15 percent of traffic stops and 25 percent of arrests in Austin, despite being just 8 percent of the population.
Local movement: Austin Justice Coalition
Contact your officials:
Fill out the Austin budget survey